At GRS Recruitment we support our candidates through the recruitment process consulting and listening to each candidate to objectively advise on what career moves are available to them. Our experienced team possess a combination of in-depth industry and sector knowledge, coupled with extensive links with a well-established client network of both local companies and international organisations. Confidentiality is the cornerstone of the ethical business practices that GRS follow, we understand in Cyprus, Malta and the Middle East the anonymity of the applicant in the initial stages of the recruitment process is of high importance and follow strict policies to ensure this happens.
Interview Tips
It is important to prepare for your interview; our Interview Tips document includes the below topic to assist you in preparing to ace your interview.
Preparing for the Interview
The Interview
Examples of Interview Questions
How to answer Interview Questions
Questions to ask at the end
Post Interview follow up
CV Writing & Career Guidance Services
The experienced GRS team are well equipped with the knowledge to assist you in producing an effective CV that will be your personal marketing document that employers will want to read and which will help you get that all important interview. Our interview coaching and preparation will give you the tools you need to perform a winning interview to take you on to the next step in your career.
Contact Us
CV Writing
Our CV Writing service will give you a professional and formatted CV in English highlighting your skills, achievements and accomplishments throughout your career. Whether you are looking to enter the workforce or you are a seasoned professional in your industry, we will produce a well written CV that will sell you to potential employers and hiring Manager's. Our service includes:
1-1 session with an experienced CV writing Consultant.
An eloquent and well written CV in English in both MS Word and PDF
For further information on the dedicated CV WRITING SERVICE, please contact a member of our team on +357 25342720 or email jobs@grsrecruitment.com
Career Guidance
The GRS Career Guidance sessions will focus on giving you 'the tools' to compete in the current employment market, ensuring that you have a well written CV and excellent presentation skills to market yourself effectively to maximize every interview and employment opportunity.
We Offer a 2 Stage Programme:
Session One - CV and Interview Preparation
1-1 meeting with a GRS Consultant
Creating or Re-writing your current CV
Advice on your personal presentation and the importance of first impressions.
Preparing for the interview process.
An eloquent and well written CV in English in both MS Word and PDF
Session Two - Role Play/Plan of Action
We will carry out a 'mock interview' formal role play scenario and we will give constructive feedback at the end of the interview detailing strengths and areas for improvements.
With an agreed Plan of Action, we will ensure that you know how to effectively commence your job search.
For further information on our dedicated Career Guidance Services please contact us on +357 25342720 or email jobs@grsrecruitment.com
Salary Information
Are you a job seeker that is considering making a career move? Are you looking to benchmark salaries or map the market to understand your market value? Please contact GRS by email at jobs@grsrecruitment.com or contact a member of the GRS team by telephone to discuss your requirements. You can also download our free annual salary survey.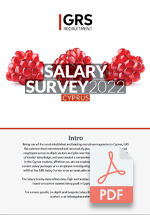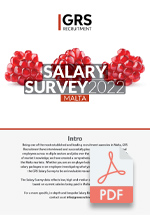 Country Relocation Guide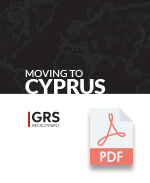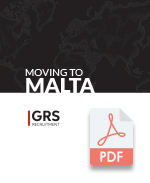 Relocating to another country for work is an excellent opportunity for widening your career prospects and gaining new life experiences. If you are interested in moving to Cyprus or Malta and you want to learn more about these countries, our free moving guides will provide you with the key insight you need to inform your decision.